Exclusive Curated Dinner Party Experience for Seven Special Women✨
​
Celebrate your birthday, engagement, babyshower, or bachelorette party with your 6 closest girlfriends!
Collaborate with Rita to curate a vibe that is your own for your special event!
​
Food & Drinks Menu Planning Session - 1 hour
Your favorite foods made organic, non gmo and vegan (GF upon request).
Decor Planning Session - 1 hour
Your favorite colors, patterns, flowers, candle scent, music, etc. Rita sends you options that you yay or nay until it's perfect.
Activities Planning Session - 30 min
Tell me what you're thinking you want and I'll make it 100 times better than you could have hoped for. *Games, book club, cooking lesson, photoshoot, group coaching, knitting, painting, movie night, and other workshops.
Total Cost: $144 per person
​
Experience Enhancers:
Event Photographer @kileyshaiphotography to document this amazing exclusive experience capturing the essence of each of your guests and the overall event.
$450 for event
Headshots Add On: $97 per person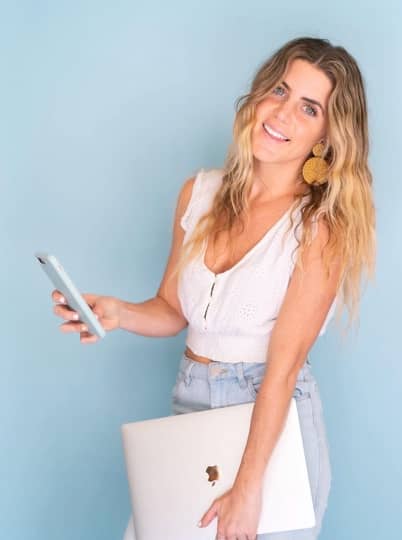 ​
​
---
Knitting by @datknitta: Don't just learn how to knit a cheap boring scarf! That's lame. Learn how to knit a unique high end luxury item using the finest, softest, most gorgeous yarn you've ever seen.
Knitting Workshop: $97 per person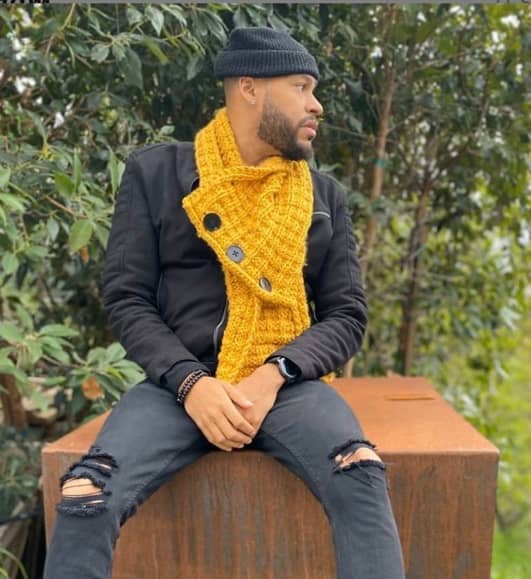 ​
​
---
Paint Nite or Henna by @hollyfranso: You haven't seen beautiful art until you've witnessed Holly paint on canvas with acrylics or henna someone's fingers.
Paint Nite or Henna: $97 per person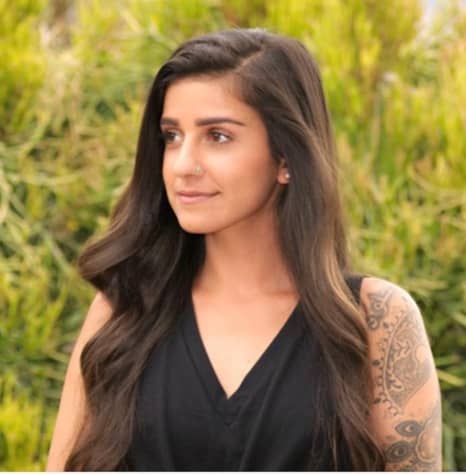 ​
​
---
Oracle Readings by @KatrinaBlackstone: Don't just have your oracle cards read to you from a book that came with them. That's lame. Instead, have the most gorgeous voice freestyle singing channeled messages that feed and awaken your soul.
Oracle Reading: $97 per person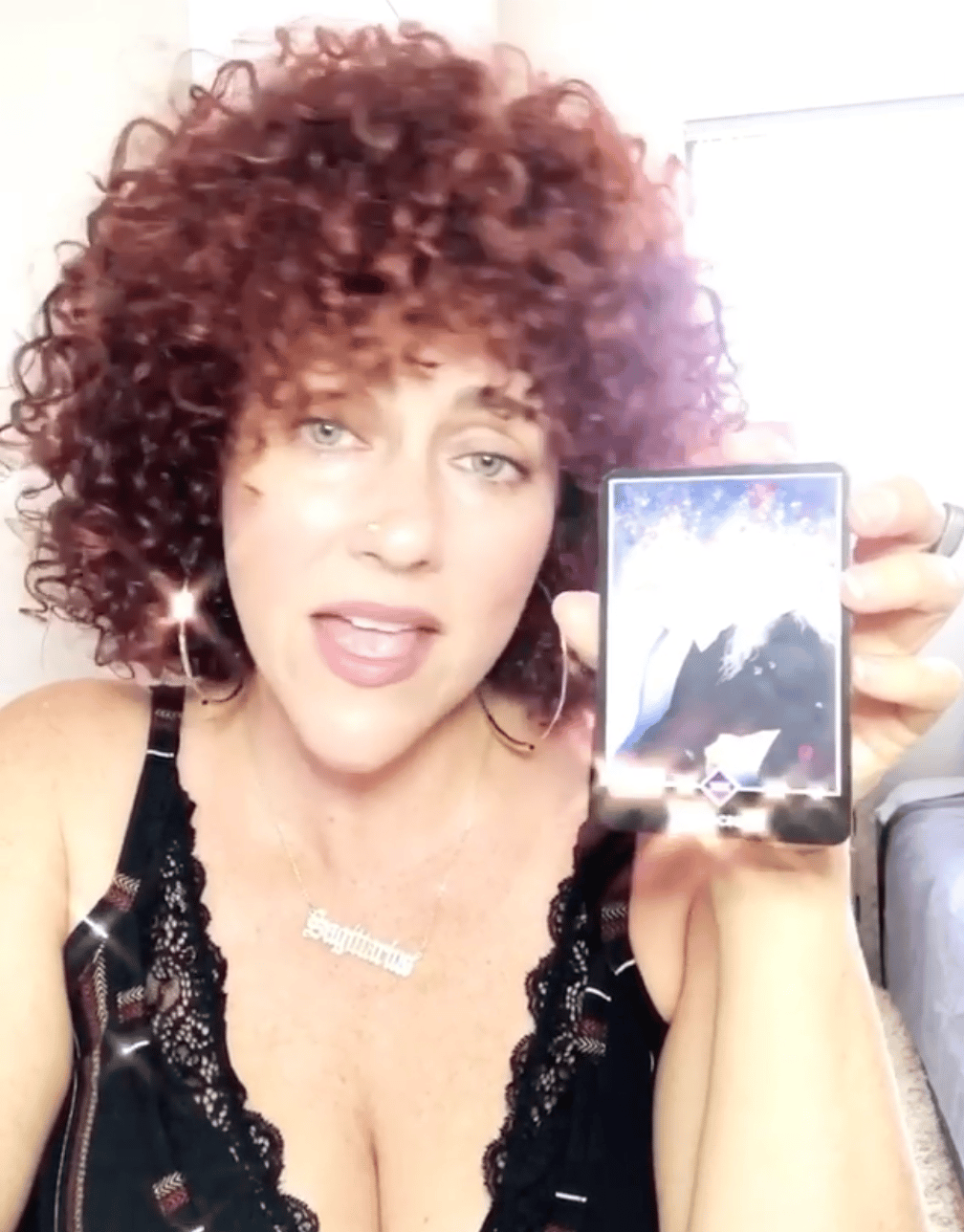 ​
Exclusive Curated Group Coaching Dinner Party ✨Membership✨
​
In Person Group Coaching is Application Only and only 7 women are accepted for the in person Dinner Party Experience.
Group Coaching Membership $97/month (you get to attend one dinner per month)
What to Expect:
Dinner: Seven gorgeous souls cook an all organic, non gmo, vegan (and GF by request) dinner and dessert.
When dinner is ready, we will sit down to eat and trade raw stories for the group coaching segment.
Meet Your Coach- Rita Pira:
I'm a highly intuitive holistic life coach that has transformed women's lives and I will inspire you to make massive shifts in your life through out the event. Whether you want to get healthier, find love, discover your passion, or figure out what's blocking you and have a breakthrough...these monthly coaching dinner party sessions are for you.
I have helped women transform their lives in huge ways by shining the light on where their pain, subconscious fear and limiting beliefs come from and reframing their stories to make peace with them, creating a new belief system shifting from fear to love in the process.
I will guide you to see your gifts and discover your purpose (what you were meant to do on this earth) and I'll come up with brilliant ideas for you to make your deepest yearnings a reality. I'll nspire you to take action and trust that the universe will make sure that it all works out - even better than you could ever plan.
I'll teach you how to love yourself, have a positive mindset, eat to nourish, and to ultimately get in alignment to manifest whatever you want.
I will tell it like it is and tell you like you need to hear it so you can really feel what's kept you stuck and blocking you.
You'll feel empowered, inspired, and motivated and you'll finally have the courage do the thing you've been talking yourself out of forever.
At the very least, you will find yourself with more clarity! Maybe you'll simply be inspired to decide to nourish your body and love yourself more, and learn what it is that's deeply rooted and blocking you...be prepared for Rita to pull it out of you and help you make peace with it to heal it. You may end up feeling motivated to quit that job you hate, or finally leave that guy you've been convincing yourself to stay with.
​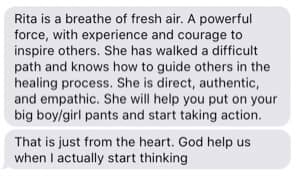 ​
​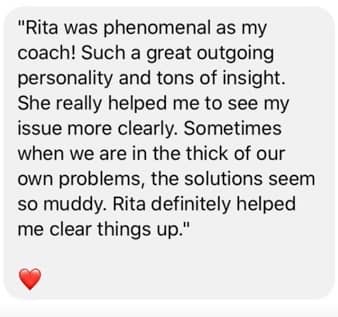 ​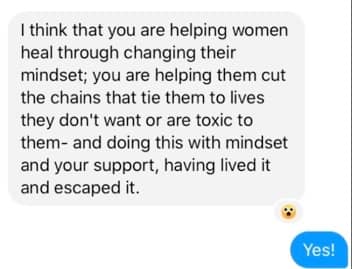 ​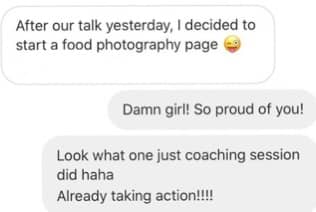 ​